The Ohio University Innovation Center gave the pup a 3-D printed wheel cart.
Tumbles, who was born without his front legs, is now rolling around with help from a 3-D printed wheelchair created by the Ohio University Innovation Center. The pup was rescued at 2 weeks old and taken to Friends of the Shelter Dogs in Athens, Ohio. Karen Pilcher serves as the organization's rescue coordinator and Tumble's foster mother. She told ABC News that Tumbles was the runt of three and had trouble nursing.
"He was getting pushed out by the others," Pilcher said. "We thought he wouldn't make it."
The retired nurse said Tumbles was born in early Oct. weighing one-and-a-half pounds and was bottle-fed for a week. After Tumbles was rescued by a FOSD board member, a volunteer posted about him on Facebook. Pilcher said a friend of FOSD and her husband wanted to help.
"[They] came up with the design and reached out to the Ohio University Innovation Center," Pilcher said.
Tumbles, who is believed to be a terrier mix, had his first fitting with the prototype wheelchair last Tuesday.
Joe Jollick, lab director of the Innovation Center, told ABC News he is thrilled with the results.
"Everyone is real enthusiastic," Jollick said. "Our main goal [was] to get him off the ground. The second thing is to get him used to it."
Jollick said the 3-D printer was acquired by the university about two years ago. Once he received the design, the wheelchair took 14 hours to print. The lab director said he is happy word is getting out about the 3-D printer.
"This is just letting people know that it can be used for just about anything," Jollick said.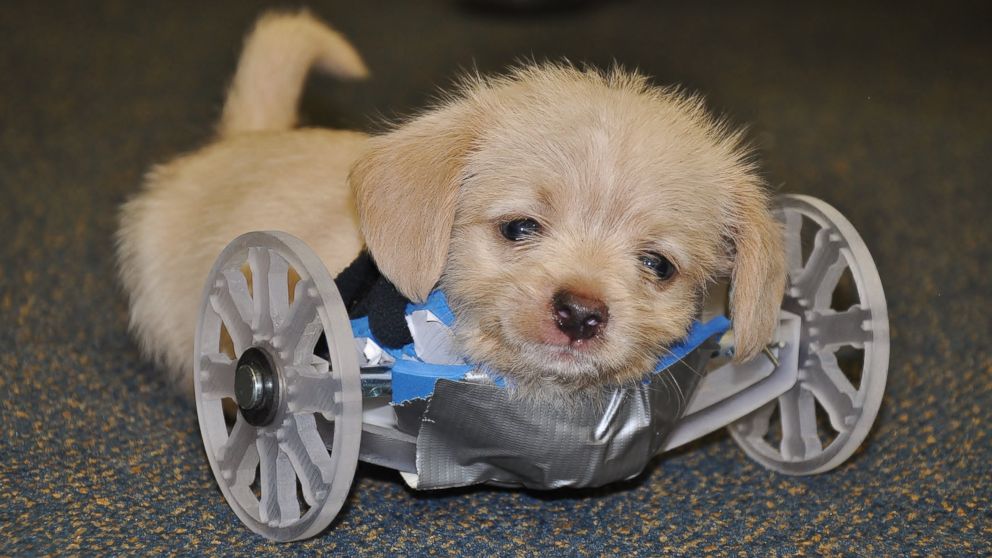 Tumbles, the two-legged puppy, was given a 3-D printed wheel cart by the Ohio University Innovation Center last week.Courtesy Crystal Richmond
While Tumbles will undergo physical therapy to acclimate to his new wheels, Jollick said the puppy's caretakers will need "a lot of patience."
"It's a tiny, little puppy so it's going to take some work," Jollick said.
Pilcher said she and Tumbles are up to the task. "His spirit is incredible. He's perfectly happy and he loves to play," she said.
This week, Tumbles will have a second fitting for a newly designed chair with smaller training wheels. Pilcher said she is thankful the pup won't continue to fall on his nose.
"He gets around really good. He's now starting to hop. He does that when he gets excited," Pilcher said, noting that the Innovation Center has pledged to make Tumbles' wheels for the rest of his life.
Representatives from the Innovation Center said although they are more familiar with working on "academic or engineering-based" projects, they are open to future animal inquiries.