This week a team of scientists unearthed an exceptionally well preserved fossil of a complete mammoth skull from an eroding stream bank on Santa Rosa Island within Channel Islands National Park.
Geologists at the U.S. Geological Survey (USGS) have dated charcoal samples adjacent to the specimen to approximately 13,000 years. The dating is significant since this time period coincides with the age of Arlington Man, the oldest human skeletal remains in North America, also found on Santa Rosa Island.
The scientific team is particularly curious about the newly-discovered mammoth's tusks. The right tusk protrudes 1.4 meters in a coil characteristic of an older mammal, while the shorter, sloped left tusk is more typical of a juvenile.
USGS Geologist Dan Muhs speculates that this downsizing process from a Columbian mammoth to a pygmy could have occurred over just several thousands of years, a relatively short time span considering the drastic change in size. In 2013, Muhs found a pygmy mammoth tusk in a sea stack on the Santa Rosa Island coastline that dated to approximately 80,000 years.
"The discovery of this mammoth skull increases the probability that there were at least two migrations ofColumbian mammoths to the island — during the most recent ice age 10-30,000 years ago, as well as the previous glacial period that occurred about 150,000 years ago." During his geologic investigations on the island's marine terraces, Muhs also detected and recorded mammoth footprints, another rare find.
As the multidisciplinary scientific team uncovers the teeth and other parts of the mammoth they will "jacket" the specimen with burlap and plaster to protect it prior to transport by helicopter and boat to the mainland. The mammoth's final destination will be the Santa Barbara Museum of Natural History, where it will be cleaned, preserved, studied, and curated for future public display.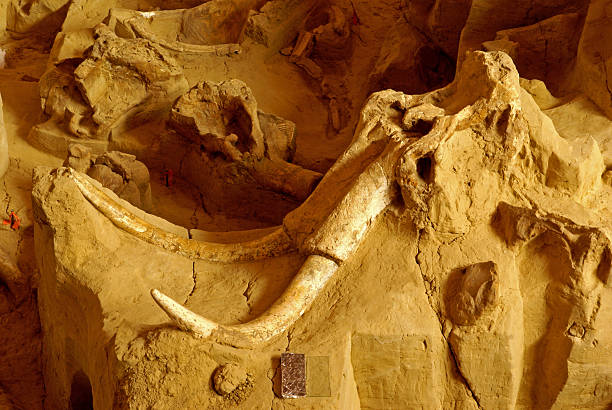 Channel Islands National Park Superintendent Russel Galipeau said, "One of the purposes of the park is to provide scientific value. This project is a great example of a multidisciplinary collaboration to learn about the prehistory of the park."
The mammoth specimen was first discovered in September 2014 by National Park Service biologist Peter Larramendy, who noticed an ivory tusk protruding from gravel sediment in the canyon wall while he was conducting a stream study.
Affectionately, the scientists have informally named the mammoth find Larry in recognition of Larramendy and their distinguished colleague, the late Larry Agenbroad, one of the world's leading paleontologists.